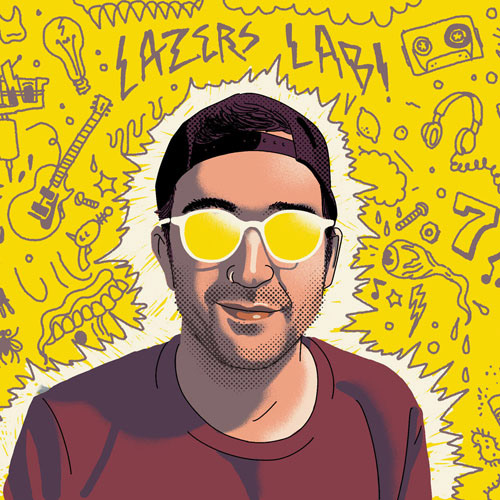 Hey - I'm Jimmy - I draw, animate, and design for a living.
I did tattoos for 14 years, and played in bands since the late 90's. 
My art career started in 2001, at the age of sixteen, when I landed a gig as staff illustrator for a now-defunct New England alt-monthly.
Fueled by a passion for indie rock, punk, and hip hop, I kept the fire burning creating artwork for bands and venues along the east coast. During this time, I refined my illustrative techniques by way of "low brow fine art," exhibiting in several successful solo and group shows in the New England area. 
I opened my freelance studio, LAZERSLAB, in 2016. That year I also expanded into digital animation, which quickly became a valuable skill and limitless narrative device.
If I'm not drawing or playing music, then I'm hanging out with my awesome wife, Amanda, and my amazing son, Elliot.
My skills include: Illustration (raster & vector), Motion Graphics & Animation Design (2-D), Character Design & Rigging, Background Design, Art Direction, Social Media Content, Print Design, +more
Selected Clients: Bad Records/ Bad Rabbits, Hometap, Gizmogul, Phlearn Magazine, Nantucket Comedy Festival, WBRU, Four Twenty Records (NL), New York Bagel Company, Bridge Hotel Group, Dubbs Coffee, Fashionable Death, Whirlybird Productions 
Solo Exhibitions:
2015 "Reinforced Through Repetition," Knight Gallery
2013 "Regurgitated," Scurvy Dog
Selected Group Exhibitions:
2018 "Tattoo Inspired Art" Gallery X
2010 "Love Thy Neighbor" Machines With Magnets 
2007 "The Sight of Sound" Machines with Magnets
If you are looking for my design portfolio, you can find it
here
.